Sunday Service – Prosperity, Vitality and Awakening: Embodying the Goddess Lakshmi In Your Every Day Life with Ananda Yogiji
For thousands of years, the goddess Lakshmi has been revered as the sustainer of all of life in the Vedic (Hindu) tradition. She is most known for bestowing abundance and good fortune but also as the bestower of spiritual teachings. Join Ananda Yogiji as he shares a wisdom talk, devotional chants and meditations on the Goddess Lakshmi. He will share how this timeless goddess can be incorporated into your daily life.
Sunday, February 6th at 10am – Livestream only at UnityCentralOregon.org
In-person services are on hold until March 6th, but we are Live-streaming on our website using Zoom! You can watch even if you don't have a Zoom account (and stay in your jammies, if you want). It will also be available as a recording on our website, Facebook, and YouTube later that day.
---
Join Rev. Jane for Her Monthly Possibility Party
Thursday, February 3, 2022 6:30 PM – 8:00 PM on Zoom
Just like a muscle, imagination has to be used to grow. Let's play in the Wild Blue Yonder together, imagining possibilities for our lives. We'll teach you the process and practice together. You may want to band together with other party participants to form your own weekly group to foster unlimited possibilities.
To join the party is FREE but please register so we'll know who is attending and we can send you the ZOOM info.
---
Last Week to Sign Up for Prosperity Class
Prosperity Plus 3 – Curriculum by Mary Morrisey, lead by Rev. Jane
Begins on February 7th at 6:30pm for 7 weeks on Zoom
This program is all about discovering and developing tools that will support you in building a life you love living, a life of full spectrum wealth and dreams come true.
---
---
Unity is Looking for New Board Members
We'll be holding our Annual Member meeting on March 6th. All are invited, so mark your calendar. This is when we vote in new board members. We've got 3 spots to fill so if you're interested in supporting your Unity Community as a board member we'd love to hear from you. Reach out to Clare Kubota.
---
What is the Unity Action, Compassion, Transformation Ministry?
Unity Community of Central Oregon has had an active EarthCare program for several years now led by Cylvia Hayes. Last year she initiated broadening our approach to community-engagement and spiritual activism by adding social and economic justice to our environmental justice activities through our ACT (Action, Compassion, Transformation) ministry. The ACT Ministry is about Unity's Fifth Principle of Action grounded in principle. It is where we directly support people in need and our planet and use our Unity message to promote positive developments in our community and world.
If you sign on to our ACT Team you'll get occasional emails of local good causes that can use resources and/or volunteers. To sign up contact ">Ande Cardwell, our ACT Community Engager.
This week we are shining a spotlight on Around the Bend Farms. Unity member Russell Simpson, who works for the organization, notified us that they are doing a fundraiser to grow their program by producing lettuce for the local food bank The Giving Plate. Learn more HERE.
---
Food Drop Off for Bend Food Project This Sunday
If you have items to donate to Bend Food Project member Anna Thedford will be doing her Unity pick up this Sunday at 12pm. That gives you enough time after service to get there 😊. Feel free to drop items off earlier that day and leave them on the picnic bench.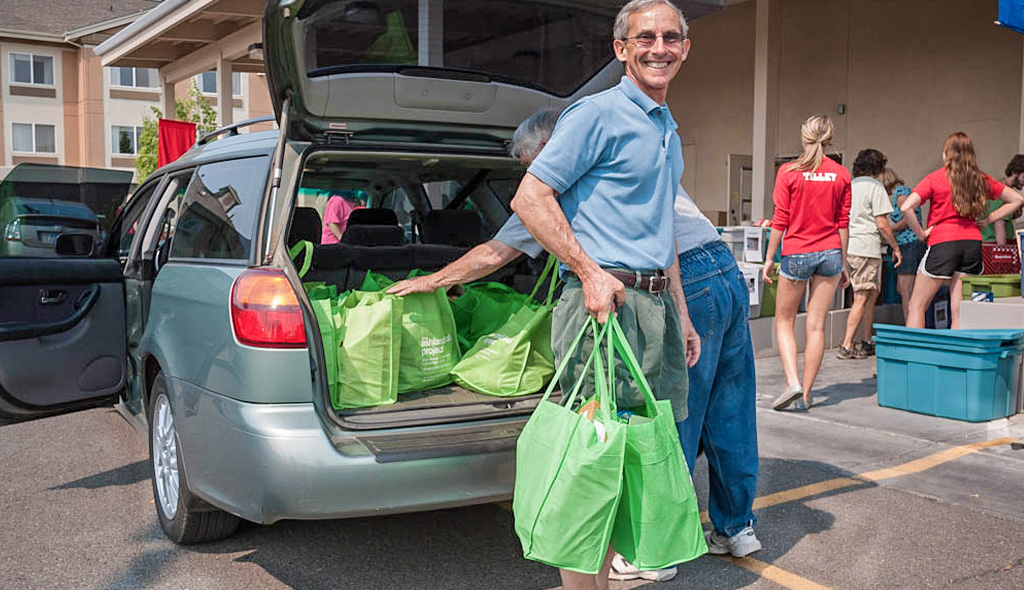 ---
Member Appreciation
This week our shout out goes to Gayle Zeigler. Gayle has been a long time member and volunteer. If you've seen our events and classes on MettUp.com or in one of the many local event calendars it's because Gayle volunteered her time to put them there. We regularly have people attend service or a class after hearing about us in one of these places. Thank you for your time and dedication Gayle. Your enthusiasm is AWESOME!
---
Have Something You Think We Should Include in Our Newsletter?
An appreciation, blog content, poem, event, or class? If it fits our guidelines we're happy to share it. Contact Clare Kubota.
---
Unity shares and listens to the opinions of others. This article is the opinion of the author:
We are a vibrant, welcoming, multi-generational, prosperous community – embodying Love and awakening Spiritual consciousness!