Sunday Service – Spiritual Principles and Pandemic Experience, with Rev. Jane Hiatt
There are those who feel they've lost their spiritual community because we have lost our way and given in to fear in our pandemic response. Recently, Unity ministers from across the world gathered and discussed this issue (among others). This week Rev. Jane will explore the spiritual principles involved in this experience. Where may we have lost our way? How do we walk through the world as a community as well as individually and remain aligned with our spiritual principles? How do we use what we are learning from this in our lives as other challenges arrive?
Sunday, February 13th at 10am – Livestream only at UnityCentralOregon.org
In-person services are on hold until March 6th, but we are Live-streaming on our website using Zoom! You can watch even if you don't have a Zoom account (and stay in your jammies, if you want). It will also be available as a recording on our website, Facebook, and YouTube later that day.
---
Bonfire at Unity this Saturday from 6 to 8pm
Everyone is invited for a social gathering at the Unity bonfire area next to the Labyrinth. Bring a camp chair, drinks, s'more ingredients, and anything else you'd like to cook over the fire, along with your fire roasting stick. This is a family-friendly gathering. Guitars and harmonicas are welcome too! We hope to see you there.
---
---
There are just a few spots left, so sign up soon!
---
Being a Unity Board Member isn't as Scary as you Think
We promise you'll learn a ton and have something impressive to add to your resume! We'll be holding our Annual Member meeting on March 6th. All are invited, so mark your calendar. This is when we vote in new board members. We've got 3 spots to fill so if you're interested in supporting your Unity Community as a board member we'd love to hear from you. Reach out to Clare Kubota.
---
Local Children's Non-Profit is Seeking Childcare Volunteers
As part of our ACT Ministry we regularly inform our Unity Community of needs in our CO area. MountainStar Family Nursery recently reached out to let us know they are in need of some help. Their mission is to prevent child abuse and neglect through community support and therapeutic services that help vulnerable children and families succeed.
They are now getting ready for Child Abuse Prevention Month in April. There will be several opportunities to get involved as they gear up for various community engagement events that month. Please reach out if you'd like to get involved!
We are in need of classroom volunteers at all our sites to play with children ages 1-5. Please contact Volunteer Coordinator Liz Bock at or 541-322-6820 if you have any questions about getting involved at MountainStar.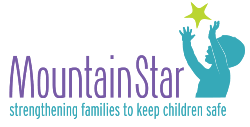 ---
A Change Is Coming to Our Property This Summer
Desert Sky Montessori, the school operating in the building behind our sanctuary, has found a new location to serve their expanding needs. They will be finishing out the school year at the One World Center property and will move to their new location this summer. Our property owners, who are all long time Unity Co members, are currently seeking another daycare/preschool business to lease the space. There is a huge shortage of daycare facilities and providers in the Central Oregon area. If you know of anyone in this business who may be interested please let us know. Contact Clare Kubota.
---
Member Appreciation
This week our shout out goes to Susan Warnick. Susan has been our board treasurer and bookkeeper for the past couple of years. She recently tried her hand at being our Sunday service guest speaker. If you didn't see her talk I highly recommend it. You can view it in the video library on our website. Very inspiring. Being that we just started a new year I thought Susan deserved a HUGE thank you. If you've ever had to do year end financials for a business you know the hours of volunteer time Susan just put in. We are so very grateful for your expertise and desire to serve our Unity community in this way. Thank you Susan!!
---
Have Something You Think We Should Include in Our Newsletter?
An appreciation, blog content, poem, event, or class? If it fits our guidelines we're happy to share it. Contact Clare Kubota.
---
Unity shares and listens to the opinions of others. This article is the opinion of the author:
We are a vibrant, welcoming, multi-generational, prosperous community – embodying Love and awakening Spiritual consciousness!